I first heard 'The Blacksmith' via the starkly beautiful arrangement on Steeleye Span's second album Please to see the King. That must have been the autumn of 1976. Over the next couple of years I heard several other versions: Steeleye Mark I's rather less impressive arrangement on Hark the village wait; Andy Irvine's reading of the song on Planxty; Shirley and Dolly Collins' interpretation of the Phoebe Smith version, as part of their magnificent Anthems in Eden suite; and Barry Dransfield's wonderful extemporisations on the Dransfield album The Fiddler's Dream (as an aside, if you don't know that record check it out now – possibly the best folk-rock album ever).
Steeleye and Planxty both did the version collected by Vaughan Williams in Herefordshire, as printed in the Penguin Book of English Folk Songs. That's not a version I've ever sung in public, but it would have been hard not to have absorbed it in my formative years as a singer, and I posted it here back in 2015 as Week 214 – The Blacksmith.
In early 1979, thanks to Ashford public library and inter-library borrowing, I managed to get my hands on the 1963 Topic LP The Roving Journeymen featuring Tom Willett and his sons Chris and Ben. That record had a big influence on me. Over the next few years I learned over half of the songs on the album: 'Riding Down to Portsmouth', 'The Roving Journeyman', 'The Rambling Sailor', 'My Dog and I', 'The Old Miser', 'The Game of All Fours' and last, but certainly not least, 'Lord Bateman'. I also really admired Tom Willett's performance of 'The Blacksmith Courted Me' but somehow I never learned it. Partly, perhaps, because I viewed it as a song best sung by a woman; partly because Tom's words were not quite, as you might say, 'oven-ready'. Well last autumn I decided the time for procrastination was long past, and set about assembling a set of words to sing.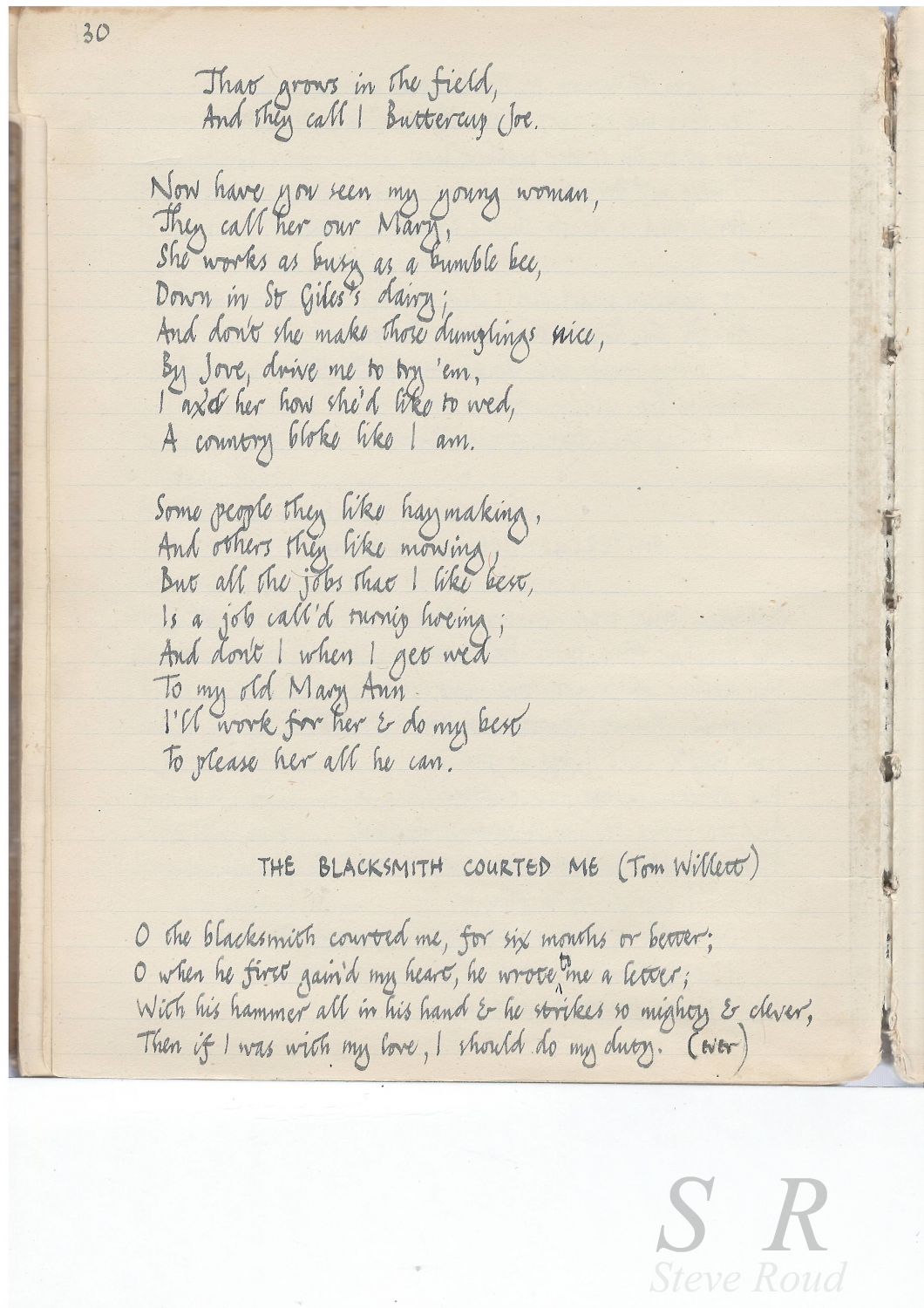 I brought in lines from other versions to fill out Tom Willett's three-line verses. Then I swapped a couple of lines around so that "clever" rhymed with "ever" and "beauty" rhymed with "duty". And then I agonised for ages over the last couple of verses. I was determined to bring in "Oh witness have I none, save God Almighty" which, along with the "Strange news" lines earlier in the song I think of as one of the absolute glories of English traditional song lyrics. But I was equally determined not to omit Tom's defiant last line
I shall never die for love, young man, believe me
In the end I added a whole extra verse, and turned the final stanza into a 6-line verse. And I think it works rather well. I am certainly enjoying singing the song, and when I make a visit to the Lewes Saturday Folk Club in April I think it's pretty much certain that this will be on my setlist.
You can find recordings of Tom Willett singing this song in various places now. The Topic album The Roving Journeymen is available for download. There's a Musical Traditions 2 CD set, Adieu to Old England, and a 2 CD release on Forest Tracks, A-Swinging Down The Lane, which (because Paul Marsh and Rod Stradling basically had the same brilliant idea at pretty much the same time) contains almost exactly the same recordings, made by Ken Stubbs in the early 1960s. Of the two I'd say the Forest Tracks album is marginally the better – apart from anything else the CD booklet contains the only photograph of Tom Willett you are ever likely to encounter. I know not everyone shares my enthusiasm for listening to field recordings of traditional singers, but if you do, A-Swinging Down The Lane is an essential purchase.
If you just want to dip your toes in the water, or if money is tight, you'll now find Ken Stubbs' field recordings available via the Vaughan Williams Memorial Library archive catalogue.
Catalogue record https://www.vwml.org/record/RoudFS/S393817 includes the pages from Stubbs' notebook shown above, and his 1960 recording of Tim Willett singing 'The Blacksmith'.
There's much more in this collection, given my particular interest in songs from Kent and the South of England, that I really must explore. Often recorded in noisy pubs, often mere fragments of a song or tune, but fascinating none the less – try this recording of an unidentified singer delivering just one verse (almost!) of 'Hopping down in Kent'; if nothing else, you certainly get a sense of atmosphere.
The Blacksmith Courted Me